Introduction
The workflow summary is a handy overview to show the current status of all job applications. In this overview, you can instantly see how many items require action or attention. With the clickable links you'll be able to directly go to the related job application.
My open jobs

The jobs in "My open jobs" overview can be used as filters in the "Recruitment workflow" overview. Just click on the (funnel) filter icon on to show the job in applicant tracking.
The Open Jobs component displays:
All jobs that are open, meaning a candidate would be able to apply for this job
All jobs that are not active anymore, but do have related job applications that are still open
Basically, it summarizes everything that a recruiter would need to act on. A job disappears once it has been registered as inactive and all job applications are fully processed.
Recruitment workflow

The green check means that the job application is in order, the orange flag means that the job application requires attention and the red exclamation mark means that there is action required. A grey cross indicates that the job application is inactive.
Where can this component be used?
Home page
Job record detail
Contact record detail
Account record detail
How to configure this component?
This component can be added to the above mentioned record detail pages. When you open "Edit Page" you'll be able to drag and drop the component in the page.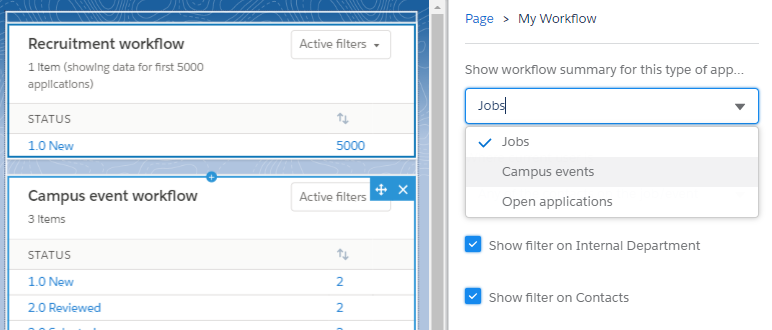 You can select the workflow summary for Jobs, Campus events and Open applications.

The other dropdown menu let you select where current user is.