As an admin of a Salesforce org on the EU6 instance, we would like to notify you of an upcoming instance refresh maintenance.
In order to prepare for your organization's continued growth, Salesforce occasionally needs to perform an activity, called an instance refresh, where they upgrade the infrastructure supporting your instance in their data centers. This will enable Salesforce to continue to provide your organization with the same levels of performance.
Following this maintenance, your instance will move to another data center within the European Economic Area, and the name of your instance will change to EU19.
Do I need to take action?
We have reviewed the information provided by Salesforce and have come to the conclusion that you only need to take action if you reference the instance in for example custom buttons, in custom links in email templates or if you retrieve data like jobs, campus events and contacts via the webservice as described in this article. Make sure other parties, for example intranet, also perform the necessary change if applicable.
The endpoint you currently use to retrieve the data via the webservice, will probably refer to the instance EU19. Since this name will change, you need to change the endpoint.
Getting the correct end-point
It is possible to change "EU6" to the new instance name EU19 after the refresh has been completed. However, you can and probably should use the custom domain that applies to your org. See this article on setting up a domain if this is not yet set up for your org.
You can find the custom Salesforce domain in Salesforce Set-up under Domain Management. See this picture:
The custom domain looks like this in most cases: "connexys-<4 numbers>". The soap address will then look like this:
<soap:address location="https://connexys-1234.cloudforce.com/services/Soap/class/cxsrec/cxsPositionWebservice"/>
The advantage of pointing the soap address to your custom domain is that in case of a future instance refresh or org move to another instance there will be no impact on your interfaces.
-----------------------------------------------------------------------------------------
The original email:
Product & Service Notification
Your EU6 org will undergo an org migration on September 15, 2018. Following this activity, your org will be on the 

EU19

 instance. 

NOTE: 

EU19

 is on a same release schedule and has the same system maintenance windows as your current instance.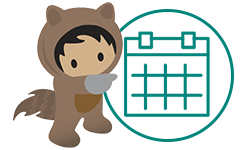 The org migration will take place between: 



21:00 UTC

 on 

Saturday, September 15, 2018

 and 

01:00 UTC

 on 

Sunday, September 16, 2018



Your org will be available in read-only mode during the maintenance.
By moving your org to an instance with upgraded hardware and software within your region, we can improve your org's performance and better position it for growth in the future. 

Additionally, this activity places both your primary and ready instances in continental Europe within the Frankfurt, Germany, and Paris, France, data centers.
To prepare for this migration, you should follow our best practices outlined on the Plan and Prepare for Org Maintenance and Releases site. If you decide not to follow these best practices, your end users may not be able to access Salesforce after the migration is complete. 

Here's a summary of those best practices:
 
•
Enable My Domain & Remove Hard-Coded References: Remove any hard-coded references by updating them to the subdomain that you created with My Domain. If you have not already implemented My Domain, we highly recommend you do so prior to the migration. 
NOTE: Not all hard-coded references are automatically updated upon enabling My Domain. Review the Updating Hard-Coded Referencesarticle and the My Domain documentation for more information.
•
Whitelist All Salesforce IP Ranges: If your corporate network settings or email security filters restrict access to IP ranges, please ensure that you are including our current ranges. (This article was last updated April 12, 2018.)
•
Prepare to Refresh Integrations: If you are experiencing integration issues following the migration, be prepared to refresh your integrations.
•
Prepare to Refresh your DNS cache: If you continue to see a "Maintenance in Progress" alert following completion of the maintenance, you may need to refresh your DNS cache.
•
Subscribe to Trust Notifications for Your New Instance: If you're currently subscribed to Trust notifications for EU6, unsubscribe after your org migration, and subscribe to Trust notifications for 

EU19

. To learn more about what Trust Notifications are and how to subscribe, review the Trust Notification User Guide. 
NOTE: During this org migration, maintenance notifications will not be posted on Trust.