Product & Service Notification
Over the past year we introduced you to the Continuous Site Switching program which entails site switching an instance approximately once every six months. We would like to notify you about the latest additions to the Continuous Site Switching program schedule, since you have been identified as an admin for a Salesforce production or sandbox org that may be impacted.
Each Salesforce instance is built and maintained in two geographically separate locations. An instance is actively served from one location (the active site) with transactions replicating in near real-time to the other completely redundant location (the ready site). During a site switch, we swap the locations of your ready and active sites; the ready site becomes the new active site and vice versa. 

If you already follow our infrastructure best practices by not restricting access to Salesforce IP ranges and setting your DNS timeout value to 5 minutes (default setting), a site switch should be seamless to your users. For more information on site switching and actions you may need to take to prepare, review our Site Switching Overview article.
This program allows us to continue to provide you with high availability of our services as we improve our site switching operational processes through iteration. Our goal is to reduce the time it takes to site switch so that we may leverage the activity more seamlessly during unforeseen incidents and for long-running maintenances. In addition, many of our customers have an internal compliance requirement that their instances are capable of being served from either geographic locations throughout the year. Continuous site switching satisfies that requirement. For more information, review our Continuous Site Switching article.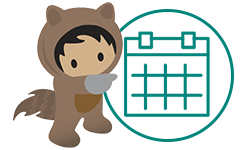 Trust has been updated with the planned site switches beginning 

September 1, 2018

 through January 2019, and will continue to be updated as site switches are scheduled. 

The current schedule is as follows: 


| | |
| --- | --- |
| Date | Instances |
| September 1 | Rescheduled from earlier this year: AP0, NA49, NA73 |
| September 1 | NA6, NA30 |
| September 2 | NA46, NA50, NA56, NA88 |
| October 20 | CS20, CS21, NA65, NA66 |
| October 21 | NA42, NA69, NA72, NA76 |
| November 3 | CS93, CS94, CS95, CS96 |
| November 17 | CS25, CS26, CS92, CS97 |
| December 1 | CS47, CS77, CS78, CS79 |
| December 15 | NA39, NA45, NA61, NA62 |
| January 19 | EU10, EU12, NA54, NA67 |
| January 20 | NA40, NA47, NA51, NA63 |
NOTES:
| | |
| --- | --- |
| • | Planned site switches will occur during the preferred system maintenance window of the instance. |
| • | If a site switch is added, removed or rescheduled, Trust will be updated to reflect this change. |
| • | To stay informed of any site switch changes and other activities, we recommend subscribing to Trust Notifications for the instances of your interest. |
More information is available in the aforementioned articles. 

If you have any additional questions, open a case with Support via Help, and be sure to include the topic #SiteSwitching in the subject line.