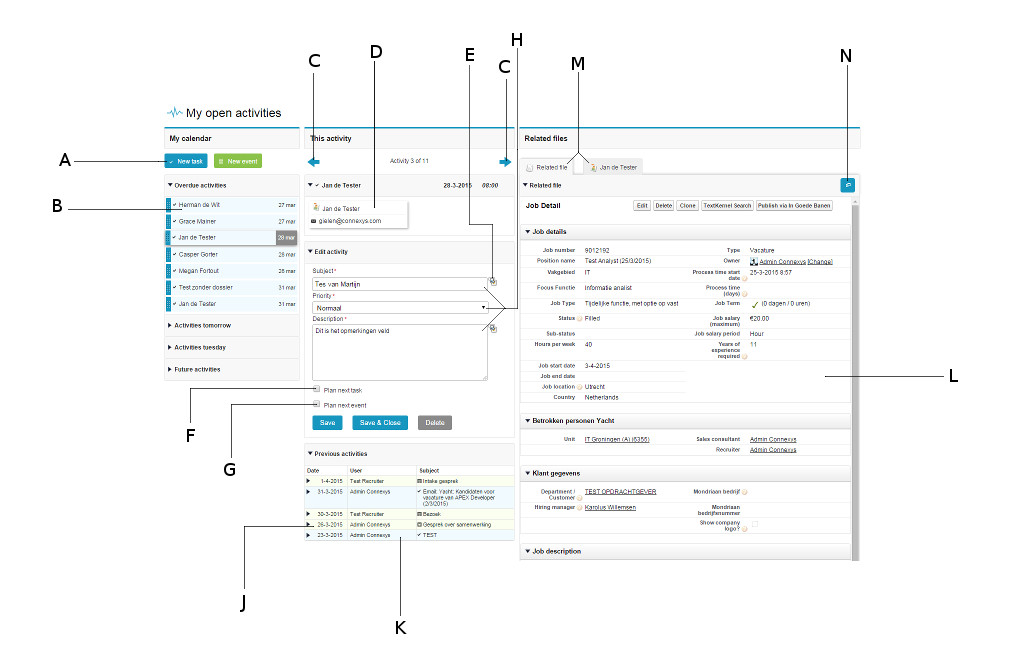 A: Buttons to create new tasks and new events. These will open the task and event creating page using the default recordtype for your profile. (see bottom for changing default task recordtype)
B: An activity. Tasks are blue, events are green. These can be dragged below other activities to plan them after it. Or double click to set a new date/time.
Click once to open this activity in This Activity.
C: Click these arrows to switch to next/previous activity.
D: Information cards about contacts or candidates. Click the name to open the related document (L). Click the email adress of a candidate to open the mail to candidate page.
 E: Open the quicktext box to pick a standard subject or description text.
 F, G: Checking these allows you to create a new followup task or event for the currently selected activity.
 H: Fields of the currently opened activity.
 J,K:  Completed tasks and events for the same contact (or candidate if no contact is available).
 M: Tabs to switch between the files related to the current activity.


 N: Open the currently selected related file in a full new window.


 L: Related document.
Click here for more information about the Talentpool Activity Page