In this guide we will show you step by step how to create a new user.

a. Go to the Salesforce Setup by clicking on Setup at the top right side of your screen.
b. Look for Users in the Quick Search Type in in the search grid or go to the 'Administer' section, than click on Manage Users -> Users
This will give you an overview of all setup options related to users.

c. In order to create a new user, click on the button "New Users" 
This will open the user edit screen where you can enter all the user information.
Keep in mind that all fields marked red are mandatory

d. Entering the general information is fairly straight forward.
However, it is key that you make sure to use the correct user license, as the user profile (which determines the rights and vision area of the user) is dependent on the correct user license. By picking the desired User License in the drop-down list, only profiles available for that certain license will be shown in the Profile drop-down list (see example below).
Or use a Similar User as an example.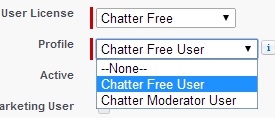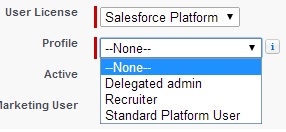 e. Continue by filling in as much information as possible or as much information as is required by your company's standards. 
f. Once you have entered all the information make sure to check the locale settings.

g. Once you are finished filling in all required information, press "Save" to save and exit or click on "Save & New" to save and immediately open a new page to create another new user.