Applicant tracking gives you a overview of the different statussen of the Candidates in the database.
Applicant tracking
On the home screen all users will see their open Job application in the Applicant tracking.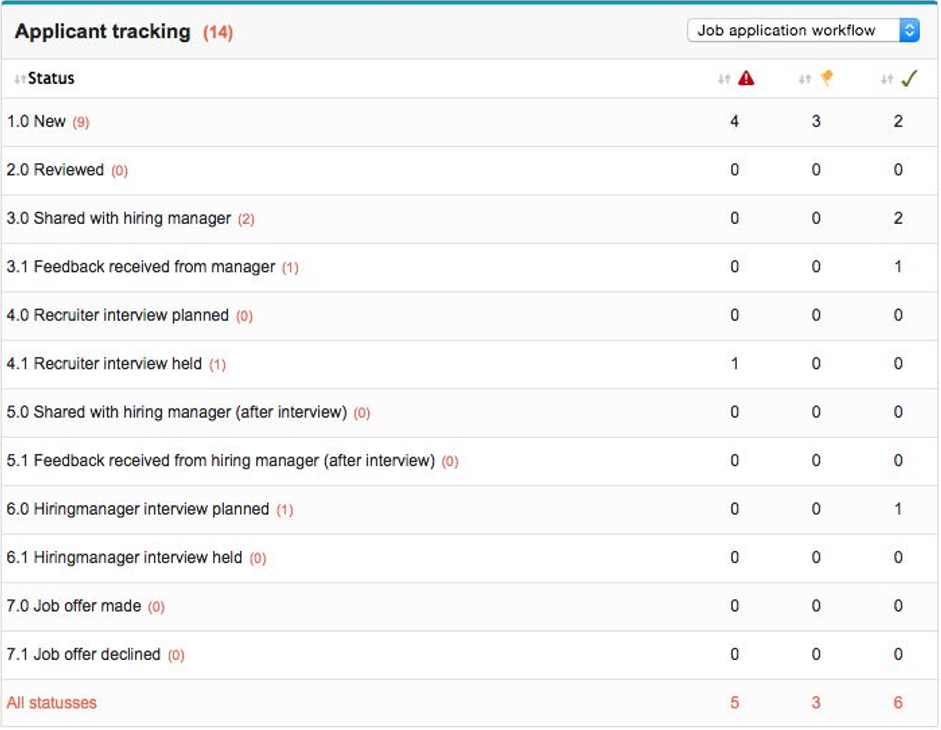 When you click on one of the statuses on the home screen you will be directed to the tab of Applicant tracking. 
When in Applicant tracking you can click on the + extra details of the Candidate (1) and Job application will appear. It is also possible to Compare selected Candidates and Browse through different CV's of selected Candidates (2).
The ranking functionality (5) makes it possible to rank the Candidate and add a Memo to it.
Step
In case of taking a step you can either:
Select one Candidate and press next step (3)
Select multiple Candidates and do a group step (4)
Clicking on a Step in Applicant tracking shows the following screen, build up with two fieldsets on the Step and Job application object:


Email
When a step is taken in the process, the application will provide the possibility to select an email template to send to the candidate or contact. When a step is being taken (e.g. planning an interview), the application asks whether an email has to be send to the candidate and/or contact. This is shown at the bottom of the following screenshot.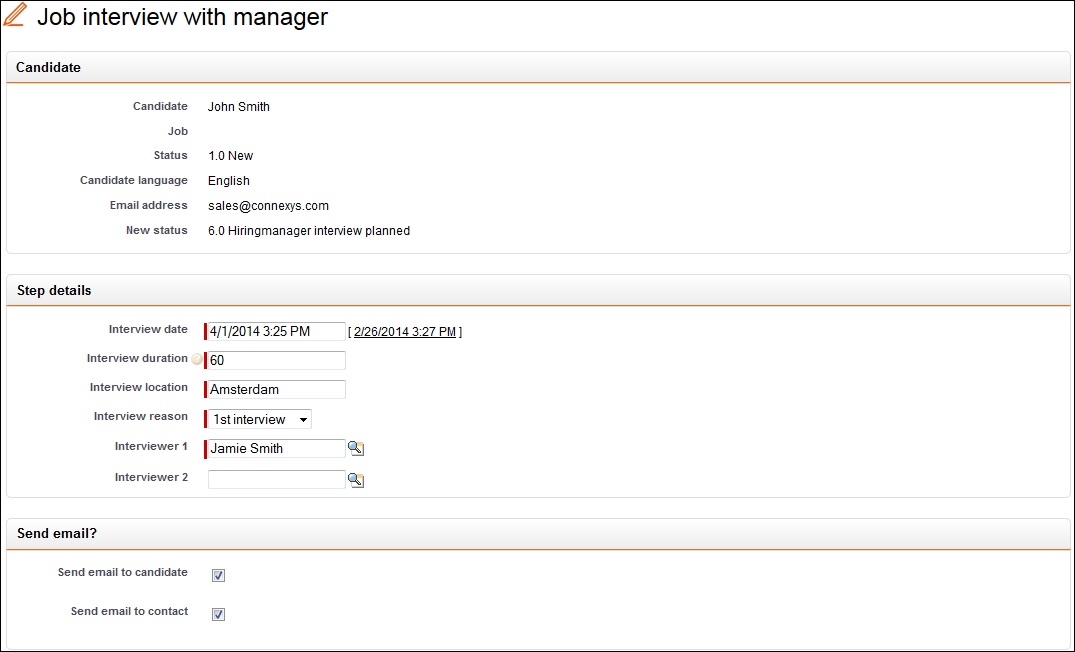 In this example, the checkboxes are checked. This implies that an email will be send to both the candidate and the contact. To see which email will be sent to both, the following screenshot gives an idea of what will be shown after the checkboxes are checked.

Note: before checking the boxes, these sections will not be given.


As can be seen, the application shows two sections below the "Send email?"-section from the first screenshot. The first section "Email to candidate" provides the possibility to choose which template must be used from a list of available templates. In this case, the available templates are all workflow step emails that have Job interview with manager as "Step" and Candidate as "Recipient" in the configuration.
For the email to the interviewer (contact) a choice has already been made. Based on the chosen template, the fields "Subject", "Email text that will be sent to the (internal) contact" and "Attachments" are already filled. Adjustments can be made by typing in the text fields or clicking the button "Change attachments".

Note: adjustments can be made to text, but not to merge fields. When merge fields are added or adjusted in this screen, they will not be filled by the application.