After signing in you will be presented with the Home page.
The home page has various functions such as quick search, the display of recent visited candidates, jobs, etc. Thereby, it can give the user an overview of the status of jobs, activities, workflows, etc. This article describes how to configure the home page and other settings of your application.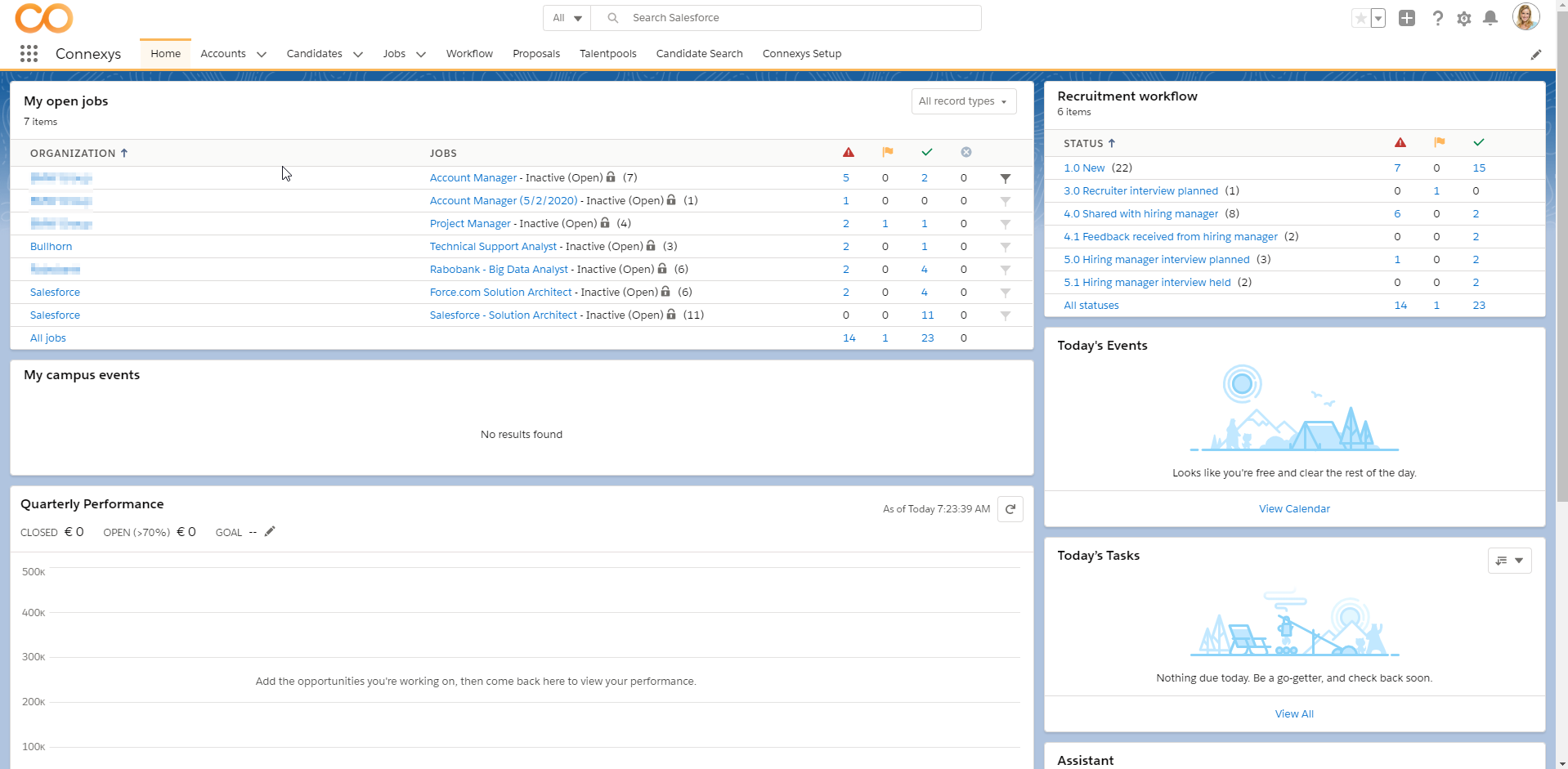 The home page
Users have the option to get a preview of their Workflow on their home page.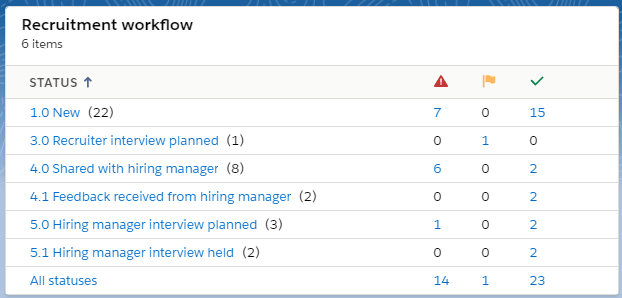 Recruitment workflow
Position names in black mean you are the owner of the Job, with status Open
Greyed out position names mean:
You are not the owner of the job, but you are a contact (creator, hiring manager, etc.)
You are owner of the job, with status fulfilled
Settings
Click your name at the top of the page to open the User Menu. The following items appear:
My Profile
My Settings
Developer Console
Logout
My Profile
This page will show the user their profile: picture, contact information and Chatter (feeds).
My Settings
The following personal setup options of the user are here.
Personal

Useful examples of settings to adjust

Personal Information

Change or add your personal details, Address or My Work Information

Change My Password

Change your current password

Language & Time Zone

Containing the fields "Language" and "Locale" to change the locale of your choice. This setting determines the format of dates, times, and names in the application.

Grant Account Login Access

Grant Connexys Support access to login into your account, to assist with support issues.

Display & lay-out

Here you can customise your Tabs (order), Pages (like dashboard), Default Record Types, Social Profiles and Interface

Email

Configure the user settings of your Email, like Email Name, Email Address, Bcc: and Email Signature. Also the Email Templates for single use can be found here.

Chatter

The settings for Chatter, as feeds and Email Notifications

Calendar & Reminders

Calendar Sharing and Activity Reminder settings

Desktop Add-Ons

Link Salesforce with Outlook and Microsoft Office
So, for the Connexys Setup various settings can be adjusted.
Please note:
Tab names can be set per user. Sometimes your administrator has set the Tab name for the Connexys Setup to: Recruitment Setup, Setup, Configuration, or alike.
You can view or edit settings depending on your access level.